In my previous post about whatsapp, I have shown you how to disable whatsapp notifications on your android smartphone. That was the easiest way to disable notifications. If you missed the article I recommend to read the full tutorial here; Disable WhatsApp notifications Android.
And today, I am going to show you how to recover deleted whatsapp messages. There are many chance of accidentally deleting the whatsapp chat conversations while using whatsapp. Deleting the chat only removes it from the whatsapp history, you can still recover these deleted conversations using whatsapp backup files. Learn more about whatsapp backups from below.
About WhatsApp Backup
WhatsApp backups are automated procedure which occurs without the knowledge of the user. These backups are created when you are sleeping, exactly at 4 AM, and stored in your mobiles internal or external memory. For restoring whatsapp messages you can make use of this backup file.
Manual backups are also available. Goto WhatsApp settings from menu and select backup conversations under chat settings. Note that manual backup will override the automatic backup file. The manual backup file can be accesses from /sdcard/whatsapp/Databases folder.

Things to Note Before You Backup WhatsApp Messages
Messages sent/received after the backup time ( 4 AM) of the current day will not be restored. ( However you can use a manual backup for keeping current chat history, it is also described in this post )
When you sent/received a message after a backup and deleted it before the next backup, you will not get back these messages.
A manual backup will override the automatic backup file.
The phone number must be same when backing up messages and restoring messages.
Recover Deleted WhatsApp Messages /Chat (Restore Backup File)
Deleted WhatsApp messages can be recovered from the backup files described above. To restore this backup file, you need to uninstall and reinstall your whatsapp application. The whole procedure for restoring whatsapp backup file is shown below as step by step. Follow this instructions to recover deleted whatsapp messages.
NOTE: Create a manual backup of current chat history, if you wish to change everything normal after restore. Steps are described in next section.
Reinstall WhatsApp
   A: Uninstall WhatsApp
Step 1: Goto Settings>> Application>> WhatsApp, and click on uninstall. Now your whatsapp will be uninstalled.
Step 2: After restart your mobile.
   B: Install WhatsApp
Step 2: Download WhatsApp and Install.
Step 2: Verify mobile number and update profile.
Step 3 : Then WhatsApp may prompt you "Would you like to restore your message history from backup?" choose Restore to get old chat history of WhatsApp.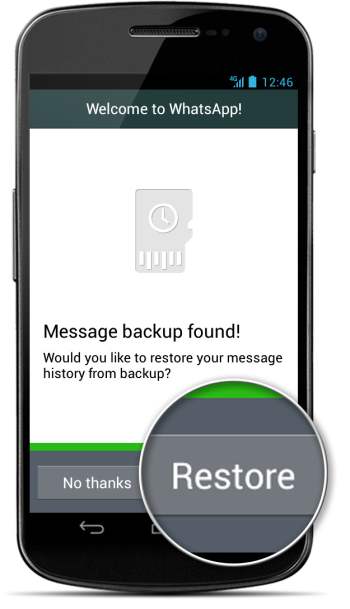 Step 4: Finally your whatsapp will be installed in your phone with old messages.
Now you have successfully restored the deleted whatsapp messages.
One drawback of this backup is you will lose the current chat history (ie if you sent/received messages today). A manual backup of current messages before restoring could prevent losing of current chat history. If you have sent/received messages after the automatic backup file created, you can backup these messages manually using the below steps.
Manually Backup Current Chat History Before restoring
Create a manual backup in whatsapp. Goto WhatsApp Menu>> Settings>> Chat Settings>> Backup Conversations.
This backup will be saved as "msgstore.db.crypt7" or "msgstore.db.crypt8" in /sdcard/WhatsApp/Databases folder. Rename it to"msgstore.db.crypt7.current" or "msgstore.db.crypt8.current" (this is to recognize the current backup file in restoration process) using any file manager application in your android.
This manual backup will be useful if you only want to read the old chat history once. So that after reading that message you can revert all history to normal. Whenever you want to restore everything back to normal state, change "msgstore.db.crypt7.current" or "msgstore.db.crypt8.current" to "msgstore.db.crypt7" or "msgstore.db.crypt8" (without quotes) and do the restore backup process.
Restore Older Backups
When you check your whatsapp backup folder (/sdcard/WhatsApp/Databases) number of backup files will be there having names in "msgstore-YYYY-MM-DD.1.db.crypt7" format. If you need to backup chat history to any of these backups change the file name to "msgstore.db.crypt7" (without quotes) and do restore backup process.
Thats all about Recovering deleted WhatsApp messages. If you facing any problem feel free to ask queries as comment below.