Well, you know all about Bluestacks, an emulator to run android apps on your computer. Bluestacks becomes everyones choice because its easy to use interface and works even in very configuration computer. Almost every app available on google play store runs smoothly on it, that's the reason why everyone loves bluestacks. And here I will show you how to root bluestack app player.
Why rooting bluestacks?
You know what does rooting do? Rooting changes your privilege level from normal user to administrator which gives full controls of your phone. The common purpose of rooting are, to remove blotwares (preinstalled apps of android), increasing performance of android, installing latest os and privileged apps such as titanium backup for backing up entire android phone…etc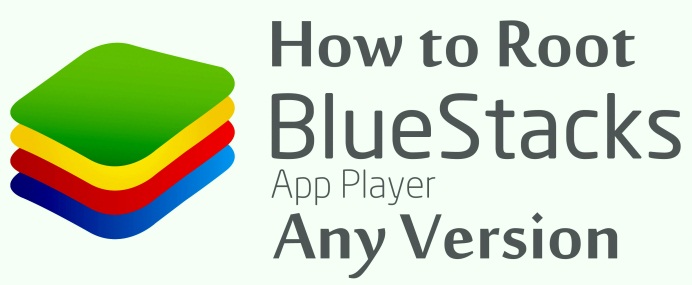 Most of the bluestack users are games, who likes to play games on big screen. For that they have to use some apps such as Xmod, GameKiller to change their gaming experience. In order to work these tweaking apps on android it has to be rooted.
Check : Find unlimited resources in Clash of Clans and Get Millions of Loot
Now lets move on to rooting bluestacks. Before starting it, I assume that you have installed bluestacks. If not, download an offline version of bluestacks here.
Several applications are available to root bluestacks. Bluestacks Multitool self root your bluestacks in less than 2 minutes with a single click. Though BS Multitool compatible with versions 0.7.4.x – 0.8.11.x only. You can also root your bluestacks using KingRoot and SuperSU application. However, the tool I am using is Bluestacks Easy tool 3.5. One advantage of it is that even you can root the latest version of bluestacks (any version).
How to Root Bluestacks Latest Version or Any version of Bluestacks App Player
>>Install bluestacks app player.
>>After that exit bluestacks from system tray. Make sure all the bluestacks process are closed by checking it in task manger.
>>Download bluestack easy tool from here
>>After downloading open Bluestack Easy. In the welcome tab click on installed Bluestacks, it shows up the current bluestacks version and the location of installed bluestacks.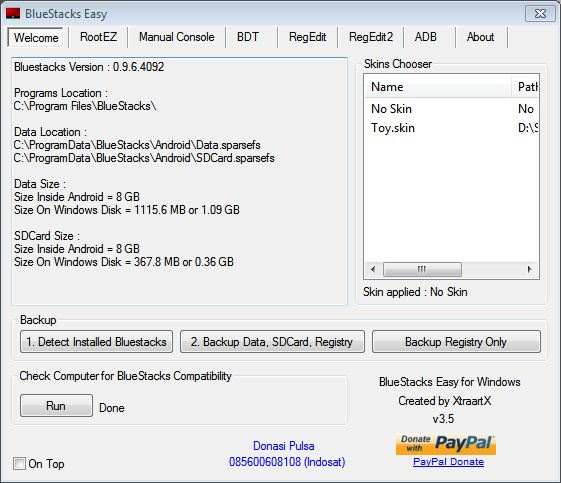 >>Then click on Run button to check your computer for bluestacks compatibility. It displays the CPU info and other details. Just below as a note you will see the system meets bluestacks requirements. Now you are able to root your bluestacks app player.
>>(Optional Step) If you have a old bluestacks (which contains more data), you can take a backup of data, SDCard and registry by Clicking on the option 2 in 'backup' of 'welcome' tab.
>>(Optional Step) Move to RegEdit tab. Assign RAM size to work your bluestacks smoothly 2GB recommended. If you have low memory leave it as it is optional step.
>>Next click on RootEZ tab. Here is we are going to root your bluestacks. You have to complete 5 steps here.
To select Original Root.fs, you can click the option 'Auto detect from installed bluestacks'. Now a link will be showed as C:\ProgramData\BlueStacks\Android\Root.fs
Note: If root.fs does not detected automatically you can also locate it by clicking 'Browse location Manually'. You may need to enable 'show hidden files' in folder layout setting if you are doing it manually(its hidden by default).
Select android version you need to install. Select KitKat the version you  going to install.
Select Rooting
Four different rooting methods are avalable here. Here we root bluestacks using ClockWorkMode Superuser. So choose Method 2
The final step is optional. If you are rooting Bluestacks version 9.20.5213 or 9.23.5214 you need to tick the check box Unsquashed System. Else just leave it.
Finally click on Proceed to start rooting process of Bluestacks.
Note: Do not press Escape key as it will terminate the rooting process.
Now you will see bluestacks console screen showing the rooting process, do nothing and wait for the completion of execution. After it bluestacks app player will open. When you see All Process Complete notification in BS Easy tool, exit the windows. Now your bluestacks app player is rooted.
Check whether your bluestacks is rooted or not by installing Root Checker App from Google Play. Now you got root permission of your bluestacks app player, and you will be able to install Xmod and other apps which requires root permission.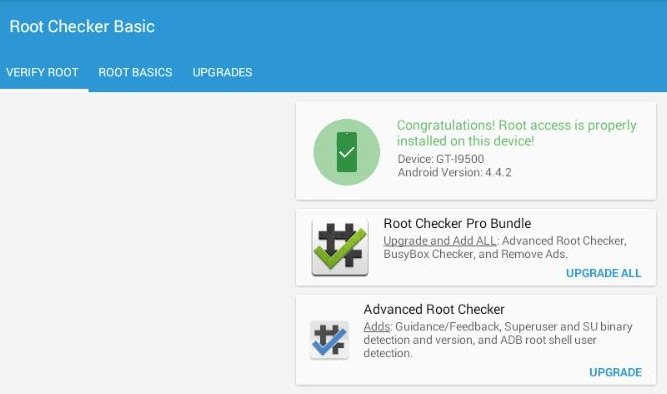 Bluestacks easy tool Supports almost all versions. To support latest version of bluetstacks you have to download latest version of Bluestacks Easy tool. I have successfully tested it on version 0.9.6.4092 on BS Easy v3.5. Using BS Easy you can root bluestacks versions 0.8.x, 0.9.x – 0.9.17, 0.9.24, 0.9.30, 0.9.34, 0.10.x – 0.10.0, 0.10.7.