Download nds4droid roms to your nintendo android emulator. Free download roms for nds4droid emulator for android and play your favorite nintendo ds games pokemon, final fantasy, gta, animal crossing and super mario on your android smartphone.
Nds4droid is a game emulator of nintendo ds game console for the android devices. It allows you to install and play nintendo ds games on your smartphone. Its like nds4ios, which is the ios version of the nintendo console. No rooting required to run the nds4droid emulator on android.
The most important feature of nds4droid is its free for all users. You can download and play it on your devices free for lifetime. Its an open source project, anyone can get the source code and use it as they like. If you are a developer you can get the source code from their Sourceforge page.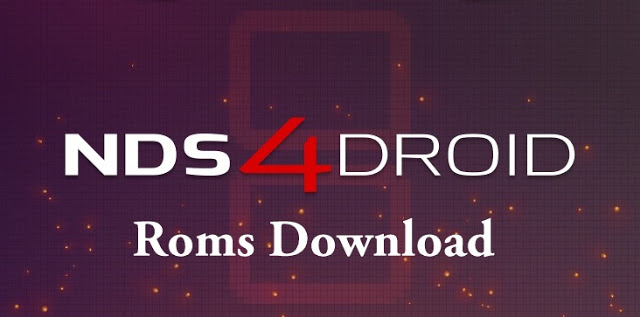 Like other nintendo emulators, you will have to download the roms and add it to nds4droid to play the desired game. The supported rom format of nds4droid is .nds roms. Apart from the nds format you can also add roms in rar, zip, 7z to it. Its default rom extractor will extract it to make it playable on your nds4droid emulator.
If you are looking for nds4ios roms I recommend you to check our old post nds4ios roms list.
Download Nds4droid Roms List- Pokemon Roms Available
Here are the list of some sites to download roms for nds4droid emulator android. Download it to your nds android and start playing.



        Love Roms
Download Nds4droid Apk for Android
If you still not installed the emulator on your android smartphone, you can download it from here.
Download the app from the google playstore or github (links added below). And you can add nds4droid roms later. There are over 5,000,000 installs for this application. The current version is nds4droid 47, and apk size is about  9MB. Download the emulator now.
How to add roms to Nds4droid
Download your nintendo ds game from the site above. Open nds4droid app. Select the file of your rom ( .nds , zip, rar or 7z). Now open the game and start playing nds4droid top games.
Nds4droid Emulator Performance
Unfortunately, this android emulator is not much fast as you think. Even from the developer website, you can check the details. Very slow frame per second will turn your emulator slow to play. The final app release was release #47 which was on February 2016. They were keep updating and makes minor performance enhancements on each application releases.
Most reported problems of nds4droid emulator
Very slow frame rate fps
battery problem, drains fast
Difficult to get settings menu
Auto save problem
Nds4droid Rom browser crash
Android compatibility issues
Though the fact is, most of these problems are fixed in the latest app releases.
Other Info – Nds4droid

Application Name   :  ds4droid
Platform : Android
Founder : Jeffrey Quesnelle
Total install all time  : 5,000,000 – 10,000,000
Required Android version : 2.3 or higher versions
Current version  : 47
Last updated date : February 11, 2017
Download nds4droid apk from playstore
Download nds4droid apk from github
Popular Nintendo roms list you wish to play on nds4droid
Mario and Luigi: Partners In Time. The Legend of Zelda: Spirit Tracks. Pokemon HeartGold/SoulSilver. Grand Theft Auto. The Legend of Zelda. Metroid Prime: Hunters. Fire Emblem: Shadow Dragon. Chrono Trigger. Pokemon Black 2 and White 2. Super Mario Bros. Final Fantasy IV. Animal Crossing.
frequently Asked Questions
Nds4droid best settings,, fast settings, settings menu?
Increase frame per second fps nds4droid?
Maximum performance setting?
How to use nds4droid?
nds4droid menu wont open? fast forward?
How to access settings on nds4droid?
Save