Google Play Store enables users to install android apps directly to their android device. But do you ever think about downloading the apk files to your device and installing it later? There are many tools available to download apk files files from Google play store. Here I am listing two website that let you to save android apk file to your phone memory.
Top Websites to Save Android APK files to Memory
1. Apps.evozi.com
Step 1 : Go to http://apps.evozi.com/apk-downloader/.
Step 2 : Paste the package name or Google play url in the field provided.
Example : If you want to download HipChat apk from google play store, find the url of HipChat in play store. It will be like "https://play.google.com/store/apps/details?id=com.hipchat&hl=en".
Copy the url or id ( red colored) and  paste it in the field.
Step 3 : Click on Generate Download Link.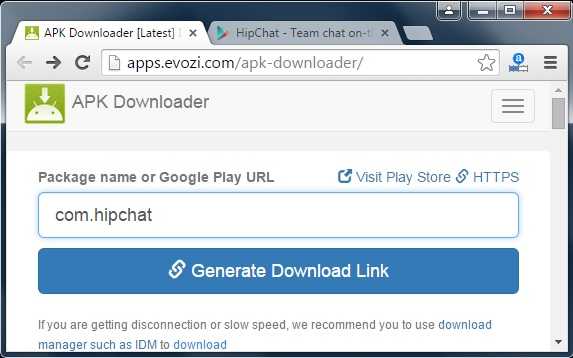 Step 4 : Download the Android APK for free.
2. Downloader-apk.com
Step 1 : Go to http://downloader-apk.com/.
Step 2 : Copy the id of the android app from the url.
Step 3 : Paste it in the package name field. For HipChat apk paste com.hipchat and click on Generate download link.
Step 4 : Then download apk for free.
If you know any other best sites to save android apk files to memory , let me know it by commenting below.