Best Free Clash of Clans bot to Get Millions of Loot – Mybot Run
Mybot run is a free open source bot for your clash of clans game. It helps the clash of clans gaming more easier by using some tweaks on the free coc bot called MyBot Run. Once you installed mybot run, it will automatically play the game and gets millions of loot for you. For that Mybot Run has hundreds of features inside which could be used for different kind of attack strategies.
One of the most advantage of mybot run is that, you don't need to waste your time by manually attacking bases. Mybot run automatically do all the jobs for you including training of troops, searching for villages and attacking villages. Your base will be active for all time and no one will be able to attack you. You can also donate/receive troops and upgrade wall/building/heros using mybot run bot.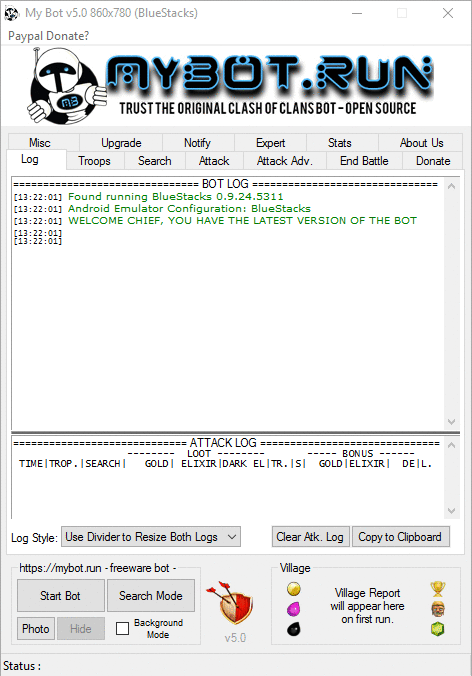 For using mybot run for clash of clans there are some requirements. Mybot run works only in rooted bluestacks in windows. Additional softwares are also needed to install in your windows pc to work on it smoothly. I have provided all the links here and you can download it from links provided below.
What are the requirements to run Mybot Run -best free clash of clans bot?
Some important things about Mybot Run
Designed to support only town hall 6 and above ( you face issues below TH6)
Avoid bringing cursor to clash of clans window while bot running
System DPI scaling must be 100%
Change system sleep settings to 'never sleep'.
Advantages of Mybot Run
100% free and open source, No ban for coc accounts
Gains millions of resources everyday.
Stay online for long time.
Auto collect resources, rearming traps and donate and request troops
Frequent updates for algorithms, supports TH level 11.
Auto upgrade of building when once set.
Auto train troops.
Attack bases with townhall out side. Attach dead bases for maximum loot.
Attacks for dark elixir only
And hundreds of more features.
Frequently Asked Questions
Getting error "Unsupported bluestacks screen size" or "Display size too small"?
This may occur when your bluestacks window size in not in recommened size. See next faq for how to change bluestack windows size to 860×780.
How to change bluestacks windows size to 860×780?
open command prompt. enter regedit. Locate HKEY_LOCAL_MACHINE\SOFTWARE\BlueStacks\Guests\Android\FrameBuffer\0. On the right panel change Height (780) and Width (860) to the specified value in decimal base.