In this post i will show you how to add adsense native ads to wordpress blog. The easiest ways to insert native ad codes to your blog. Try the new google adsense ads and get even more money from your website.
Recently Google announced new Adsense ads called Native Ads. Its a group of ads intended to coordinate with the look of your website or blog, thus getting and awesome experience for the viewers.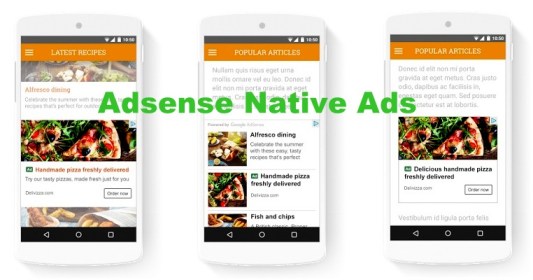 Categories of Adsense Native Ads
There are three categories for Adsense Native Ads
1. Matched Content
2. In-feed ads
3. In-article ads
These are the newly launched adsense ads – Native Ads. You can use it on your blog to increase adsense income.
The main features of the Adsense Native Ads are –
It giving an awesome user experience : because the native ads fits on your blog naturally. And high quality images and longer titles and description give more appealing to the viewers.
An extraordinary look and feel crosswise over various screen sizes: the advertisements are worked to look awesome on all screens such as mobile, pc and tab.
Ease of Use : simple to-utilize altering tools enable you to make the advertisements look incredible on your site.
How to Add Adsense Native Ads to WordPress blog [in-feed and in-article]
If you don't know how to add the latest adsense native ads to your wordpress blog, follow the below steps to know how to add it to your blog. Its really very simple.
First login to your adsense dashboard
Navigate to My Ads, then click on Content drop down and select Ad units. and click on New Ad unit
Here you will see the three ad categories available. they are Text and Display ads, In-feed ads and In-article ads.

Choose the native ad type you want to add to your blog. For Example say in-feed ads or in-article ads.
After selecting the ad type choose the ad layout you want to use. [ below is the layout of in-feed ads]

If you choose the in-article ads it will be shown like below

There will be an option to customize your ad units. Change it if you want.
Then save and get the code.
After that go to your wordpress posts section. Create a new one or edit previous.
Click on the text tab located at top right of the post editing section.
Now to add adsense native ads to wordpress blog, you simply paste the new code where ever you want to show.
You are done. Now you successfully added native ads code to your wordpress website.
That's all about adding the latest google adsense native ads in feed and in article ads to wordpress blog.
For more help i recommends you to visit the links.
Ad implementation.
Adsense blog